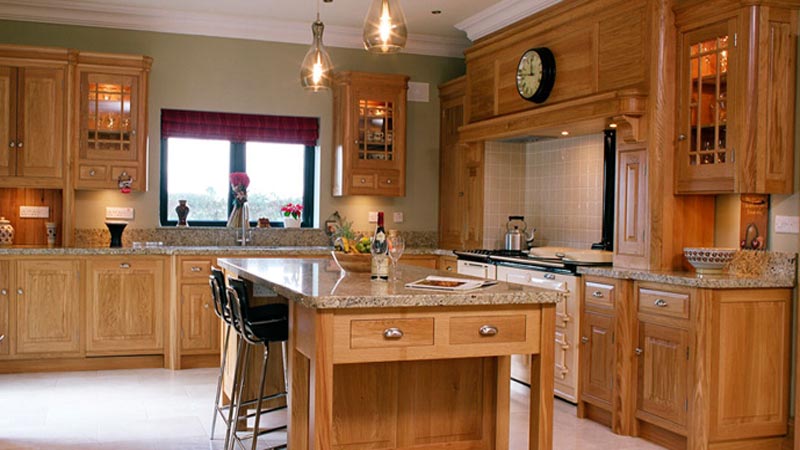 Oak is an extremely attractive and popular choice for furniture because of its high durability and strength as well as for the beauty of its grain. The density of oak, which is very high (0.75 g/cm³) contributes to its hardiness and the wood is both insect and fungus resistant due to its high tannin content.
The colour of oak wood varies according to the type of oak and where it is grown, but oak wood in general is considered beautiful enough to carry its own colour. Because oak is open grained, it is far more susceptible to novelty finishes than any other wood and can also be stained to bring out the beauty of its grain.
Kitchen furniture made out of oak wood is extremely flattering to any decor scheme. The colour of the wood will add character and a certain charm and elegance to your kitchen that other woods cannot achieve.
Looking after your oak wood furniture, be it in the kitchen or any other part of the house is not difficult. Maintenance of your wooden furniture depends on the finish and usually requires periodical, quick rubdowns of lacquer, wax or oil. Through proper maintenance, your oak wood furniture will last you several lifetimes at least and will preserve its functional and aesthetic qualities for an equal amount of time.
Oak wood furniture for your kitchen has a lot to offer in terms of beauty and durability and would probably be the best investment in hardwood furniture you'd ever make.